Ayutthaya Historical Park and its Temple Compounds (Wats)
Video of Ayutthaya Highlights
at bottom of this page :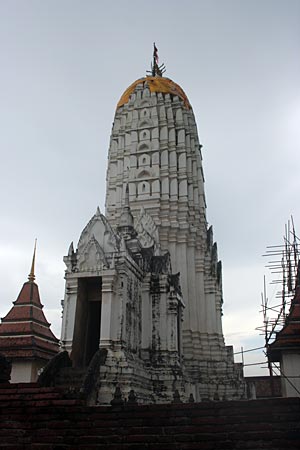 Prang at Wat Phutthai Sawan, early Ayutthaya period. 'Thai'-styled prang (rounded). The top of the prang tapers off gradually.
We have visited most of the important temples around Ayutthaya Historical Park. Somehow we also managed to skip one or two. In any case, we advise that you need about two full days to cover most of the sites. This amount of time is the same whether you use a bike, a car, or a touring coach. Most visitors will only spend a few hours in the old capital, but this will not allow you to have a full overview of its culture and history.
The history and culture of Ayutthaya can be divided into three main period :
The Early Ayutthaya Period, the Middle Period, and the Late Ayutthaya Period.
From an architectural viewpoint, we can make simple distinction between the three periods. During the first period, the Prang (adapted from Khmer architecture) was the most prominent structure within the temple compound. During the middle period, the chedi (or stupa), often in Sri Lankan (rounded) style became the most visible monument. During the later Ayutthaya period, the Ubosoth or Coronation Hall became larger and larger, and while the prangs and chedis are still there, they are less prominent.
Please bear in mind, that quite a few of the older temples have been restored. Therefore elements of newer architecture may be seen in the older temple compounds.
Most important temple compounds, rather 'must see' :

: Contains Video Impression

Wat Mahathat

(early) - Famous Buddha Head in tree, lots of ruins.

Wat Ratchaburana

(early) - Impressive main prang, large compound.

Wat Phra Si Sanphet

(middle period) - Three large Chedis

Wat Yai Chai Mongkol

(chedi middle period) - Large Chedi, Reclining Buddha
Wat Chai Wattanaram

(late period) - Most impressive Prang and Towers

Wat Phanan Choeng

(buildings contemporary) - Huge ancient Buddha Image, very busy wat.
Recommended :
Wat Phutthai Sawan

(early) - Whitewashed prang, Reclining Buddha
Wat Phra Ram

(early) - Large prang

Wat Na Phramen

(late) - Interesting old Buddha Images

Wat Choeng Tha

(late) - Prang, interesting quiet site.

Wat Suwan Dararam

('modern period') - Very interesting Mural Paintings
Wat Mongkhon Bophit

('modern period') - Active wat, Large ancient Buddha Image.
Optional
(surely still worth a visit!) :
Wat Thammikarat (middle) - Lion sculptures
Wat Kasattrathirat

(late) - Whitewashed prang.
Wat Phu Khao Thong (late) - Large Chedi.
Wat Lokayasutharam (middle) - Large reclining Buddha.
Wat Som (early) - Prang, stuccos.
Wat Maheyong (middle) - Elephant sculptures.
Wat Sala Phun (late)
Wat Worachetharam (late) - Prang.
Add-on : The Prang in Khmer and Ayutthaya Architecture.